Check here for news about upcoming events from ACHE and our partners in history education
---
ACHE's annual conference is back!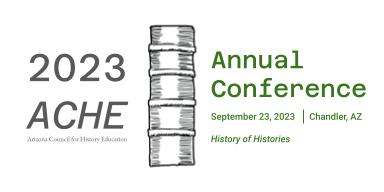 Conference Theme: History of Histories
How has history education changed over the past two centuries? How can we, as teachers, change our history instruction to be more authentic? And how can we, as historians, respond to criticism about the state of history education today? Join ACHE in examining past and current public debates over what constitutes "real history" as we uncover the "Histories of Histories."
When: Saturday, September 23, 2023
Where: ASU Chandler Innovation Center, 249 E. Chicago St., Chandler, AZ 85225
We're accepting presentation ideas now, so please submit your proposal.
Conference details will be updated on our Conference page as they become available.